St. Hilary's Miniature Church Advent Calendar 2009
Tuesday 15th December 2009
The children have chosen this photo from their Christmas 2004 celebrations for today.. They loved this nativity scene that they borrowed from another church for that year. They still remember gazing at the nativity scene with Mary and Joseph and the baby Jesus in his crib. The carol they have picked for today reminds them how important Mary is in the story of the nativity. If she had not said "Be it to me according to thy word" when the Angel Gabriel told her she was to give birth to the Son of God the world would not have been saved.
The children insisted that the carol appears here in its original Latin! See below.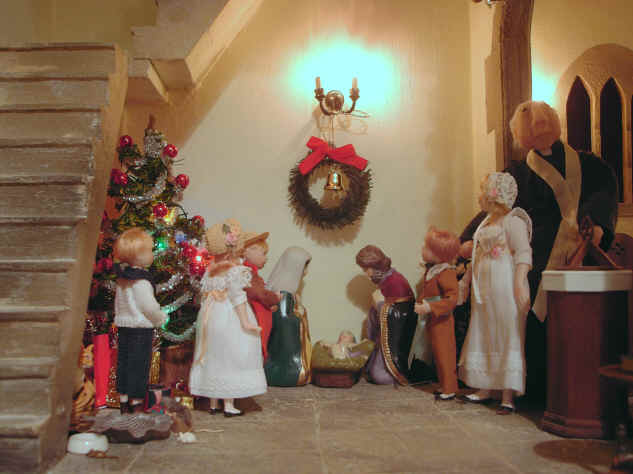 ve Maria Gratia plena
Maria Gratia plena
Maria Gratia plena
Ave, ave dominus
Dominus tecum

Benedicta tu in mulieribus
Et benedictus
Et benedictus fructus ventris
Ventris tui Jesus
Ave Maria
Ave Maria Mater dei
Ora pro nobis pecatoribus
Ora, ora pro nobis
Ora ora pro nobis pecatoribus

Nunc et in hora mortis
In hora mortis, mortis nostrae
In hora mortis nostrae
Ave Maria!