St. Hilary's Miniature Church Advent Calendar 2009
Thursday 10th December 2009
The children LOVE the carol they picked for today. It is ALWAYS used in King College, Cambridge's traditional Christmas Eve Nine Lessons and Carols service for their opening processional carol. It SO reminded them of the very first procession they had with Rev Ken carrying the new processional cross at Christmas time back in 2004!
See more on Rev Ken's very own page! They also love this carol because it reminds them that Jesus was born a baby and grew into a child just like themselves who felt pain and joy just like them!
See below which carol it is!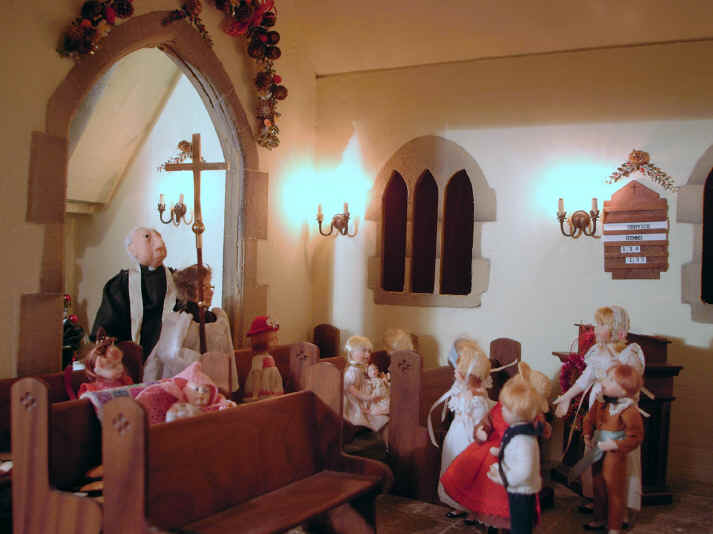 (Words by Mrs Cecil Frances Humphreys Alexander)
nce in royal David's city,
Stood a lowly cattle shed,
Where a mother laid her Baby,
In a manger for His bed:
Mary was that mother mild,
Jesus Christ, her little Child.

He came down to earth from heaven,
Who is God and Lord of all,
And His shelter was a stable,
And His cradle was a stall:
With the poor, and mean, and lowly,
Lived on earth our Saviour holy.

For He is our childhood's pattern;
Day by day, like us, He grew;
He was little, weak, and helpless,
Tears and smiles, like us He knew;
And He cares when we are sad,
And he shares when we are glad.

And our eyes at last shall see Him,
Through His own redeeming love;
For that Child so dear and gentle,
Is our Lord in heaven above:
And He leads His children on,
To the place where He is gone.